03.08.2022
Cary students to meet MCNC Vital Cyber during Students@Work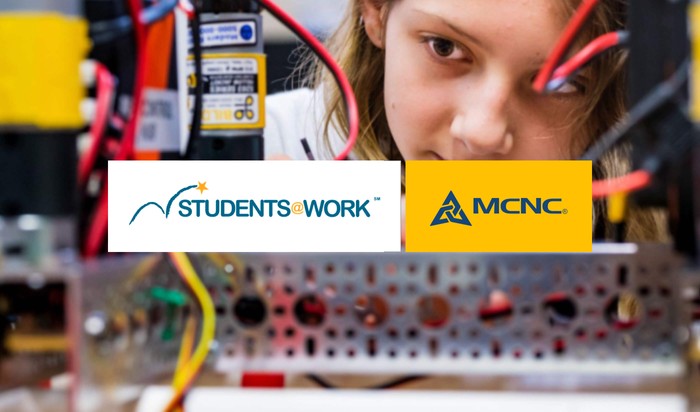 Students@Work month is underway, and MCNC is proud to once again support the annual job shadowing and mentoring initiative organized by the North Carolina Business Committee for Education (NCBCE) and N.C. Department of Public Instruction.
On March 15, MCNC will work with students from Reedy Creek Magnet Middle School Center for the Digital Sciences in Cary as part of this statewide, career-awareness effort.
MCNC is the non-profit operator of the North Carolina Research and Education Network, or NCREN. A network like NCREN needs to be extremely diligent about securing its assets. Similarly, students must be cautious in securing their personal assets. Students@Work is a great opportunity to introduce students to the world of networking technologies, cybersecurity, and related careers.
Staff from MCNC's Vital Cyber team led by MCNC Chief Information Security Officer Chris Beal will be presenting and sharing cybersecurity best practices for the students as well as introduce them to the exciting and rewarding career options currently available in the field.
"MCNC has participated in the Students@Work program since it began, with the goal of helping middle school students learn more about careers in technology and science," said Beal. "We're proud to be part of the Students@Work program, to help these students better understand these career options and the skills required to succeed in these careers."
The goal of Students@Work is for North Carolina businesses to help middle school students see the opportunities that exist in the workplace as well as the skills needed for those jobs. The program helps to fulfill the career awareness component of the Experience More campaign by connecting classroom learning with career learning to better prepare students for tomorrow's jobs today.
Why middle school?
Middle school is a crucial time for dropout prevention and also when high school curriculum planning takes place. Direct experience with the workplace demonstrates the relevance of education and career awareness to future success. The NCBCE has highlighted specific focus weeks for middle schoolers in 2022. March 1-4: Education, Health Care and Public Service; March 7-11: Small Business and Entrepreneurship; March 14-18: STEM; March 21-25, 2022: Hospitality, Tourism and Retail; and March 28-31: Manufacturing, Transportation and Agriculture.
This job-shadowing initiative originated by gubernatorial proclamation with the NCBCE in 2011. Formerly just a one-week effort, Students@Work has grown and now spans the entire month of March. Approximately 18,000 students and more than 200 businesses participated in Students@Work through virtual means in 2021. To date, nearly 300,000 North Carolina students have been positively impacted by the program. Over the years, MCNC has previously hosted students from Reedy Creek as well as students from Brogden Middle School in Durham Public Schools. MCNC has participated every year since Students@Work began.
Follow and participate in conversations during Students@Work on social media using #studentsatwork, #ncbce and #NCJobReady. You also may follow directly on Twitter @MCNC, @ncpublicschools, and @ncbce.