11.12.2018
MCNC supports Teachers@Work and Students@Work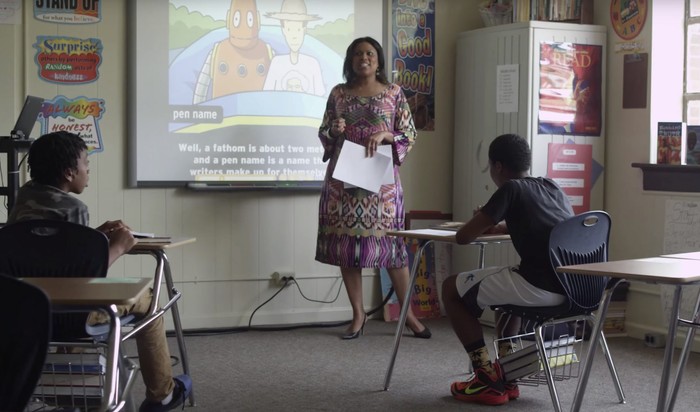 initiatives led by the North Carolina Business Committee for Education (NCBCE) that connects students and educators to local businesses throughout the state.
The Teachers@Work program connects educators to businesses for an experiential learning opportunity about employable workforce skills that can be transferred to the classroom environment. It is a joint initiative between the NCBCE and the N.C. Department of Public Instruction, linking education and the business community to help teachers create relevance between their classroom curriculum and the skill sets needed by local businesses.
In July, Nadia Campbell of North Wake College and Career Academy participated in Teachers@Work with MCNC. During the week, Campbell was able to work with MCNC staff to learn more about networking technologies and related careers in broadband services and infrastructure. Read full story.
In 2014, NCBCE launched Teachers@Work with a goal of connecting educators and businesses in a way that will give an in-depth learning experience about employable workforce skills. The initiative strengthens classroom and business connections while empowering teachers to cultivate knowledgeable, qualified future employees. Teachers@Work has emerged as a gold standard in educator professional development, effectively breaking down barriers that traditionally separate classroom and career environments. Watch promotional video.
MCNC has proudly supported Teachers@Work since it began.
MCNC also supports NCBCE's annual job shadowing and mentoring initiative, Students@Work.
In March, MCNC welcomed students from Brogden Middle School in Durham Public Schools as part of the program. This was MCNC's sixth consecutive year participating in Students@Work.
March 19 through March 28 was designated as Students@Work Week – a 10-day blitz aimed at exposing middle school students from across the state to real-world, business environments in their communities. This job-shadowing initiative originated by gubernatorial proclamation with the NCBCE in 2011. To date, more than 203,000 North Carolina students have been impacted by the program.
In December, MCNC participated in the Experience More Summit on Work-Based Learning & NCBCE Annual Meeting in Durham. The event put a spotlight on a new model for workforce development and engagement – one that is employer-led by leaders who understand the importance of playing an active role in developing their own talent pipeline through community investment efforts.
MCNC looks forward to participating in other future NCBCE events and initiatives in 2019.