03.20.2017
MCNC to host Durham middle school for Students@Work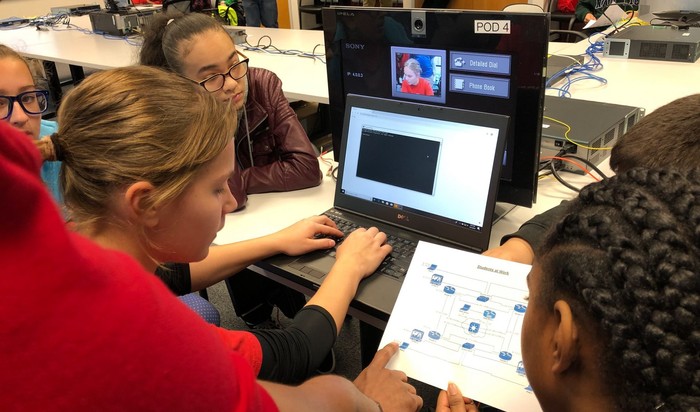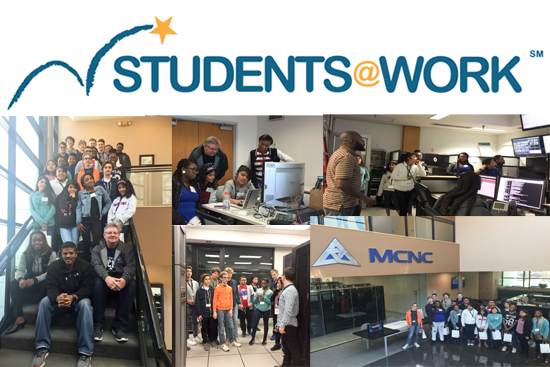 MCNC will welcome students from Brogden Middle School in Durham on Thursday (March 23, 2017) for Students@Work, the annual job shadowing and mentoring initiative organized by the North Carolina Business Committee for Education (NCBCE) and N.C. Department of Public Instruction.
MCNC is pleased to join other businesses across the state for Students@Work so North Carolina students get the opportunity to take part in job shadowing or job mentoring programs to help them connect what they are learning in the classroom with the real world of work.
This year's program will impact about 24,000 students and involve more than 150 businesses statewide. The annual initiative centers its efforts around middle school students because middle school is a crucial time for dropout prevention and high school curriculum planning. Direct experience with the workplace helps demonstrate to students the relevance of education to their future success.
MCNC is the non-profit operator of the North Carolina Research and Education Network, or NCREN. Students@Work is a great opportunity to introduce students to the world of networking technologies and related careers as technology and broadband connectivity play a massive role in the everyday lives of North Carolina citizens.
"MCNC remains committed in helping North Carolina students interested in a career in technology achieve their goals," said Darleene Heath, Director of Communications and Member Engagement at MCNC. "This is MCNC's fifth consecutive year participating in Students@Work with the goal of helping middle school students see the opportunities that exist in the workplace and to gain knowledge of the career skills needed to obtain those jobs in their community.
The NCBCE is a nonprofit comprised of business leaders from across the state focused on ensuring every student in North Carolina graduates from high school ready for life and work in a global society.
Students@Work is made possible by a grant from GlaxoSmithKline. It runs March 22 through March 31.
MCNC hosted Rogers-Herr Middle School in Durham for Students@Work in May 2016. MCNC also annually participates in the Teachers@Work initiative, which is planned again later this year.
Participate in conversations on social media throughout the campaign using #StudentsatWork or follow @MCNC, @DurhamPublicSch, @NCPublicSchools and/or @NCBCE.