02.28.2018
MCNC Expands Broadband Connections in Central North Carolina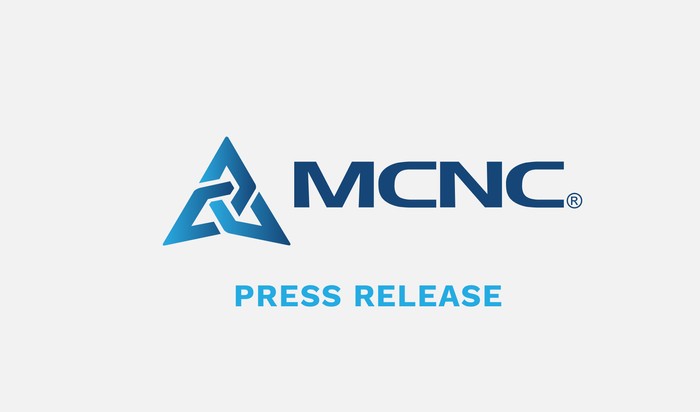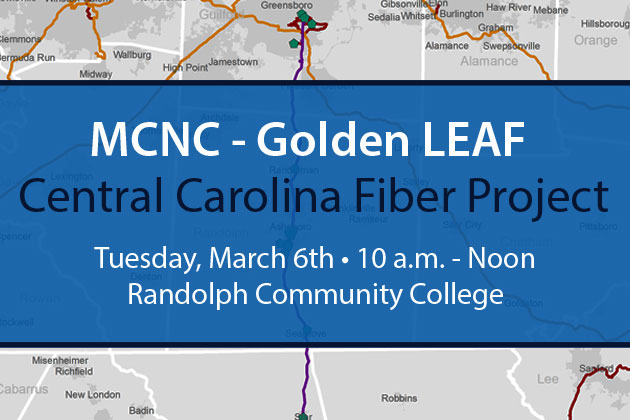 MCNC - Golden LEAF Central Carolina Fiber Project directly connects 22 Community Anchor Institutions to NCREN backbone, helping to bring Internet connectivity levels in rural North Carolina to all-time highs
ASHEBORO and RESEARCH TRIANGLE PARK, N.C. (Feb. 28, 2018) –MCNC, the non-profit owner and operator of the North Carolina Research and Education Network (NCREN), today announced that 22 Community Anchor Institutions (CAIs) now have direct connections on MCNC-maintained fiber network facilities from Greensboro to Hamlet. MCNC plans to show appreciation to the organizations and individuals who supported this project on Tuesday, March 6 (10 a.m. to noon) at Randolph Community College.
Next week's celebration is planned at the Continuing Education and Industrial Center (CEIC) building located at 413 Industrial Park Avenue in Asheboro. Randolph Community College is one of the newest CAIs directly connected to NCREN and also now has a network regeneration facility located on campus.
Additional CAIs connected: Allen Public Library (formerly Biscoe Public Library); Asheboro City Schools; Asheboro/Randolph County Public Library; Currie Memorial Library; Daymark Recovery Services - Randolph Center; Daymark Recovery Services - Richmond Center; Greensboro Central Public Library; Guilford County Schools; High Point Regional Physicians Network - Asheboro Cardiology; High Point Regional Physicians Network - Asheboro Neurology; Kemp Sugg Memorial Library; NC State Highway Patrol Troop D District; Randleman Public Library; Randolph Community College; Randolph County Schools; Randolph Hospital, Inc.; Richmond County Health Department; Seagrove Public Library; Star Public Library; Thomas H. Leath Memorial Library; Triad Math and Science Academy; and Uwharrie Charter Academy.
Special guests include: Dr. Robert S. Shackleford, Jr, President, Randolph Community College; Jean Davis, President and CEO, MCNC; Jean Payne, Technology Coordinator, Daymark Recovery Services; Ross Holt, Director, Randolph County Public Library; Shane Bryson, Recruitment and Student Life Specialist, Randolph Community College; Mike Copley, WAN Engineer, Randolph County School System, Tommy Jacobson, COO, MCNC; and Dan Gerlach, President, Golden LEAF Foundation.
"Golden LEAF is proud to be a strong supporter of MCNC's mission to serve community anchor institutions across the state, especially in rural North Carolina," said Gerlach. "Today's announcement builds on the MCNC track record of serving the state's broadband needs with reliability and affordability."
In 2010, MCNC applied for and received two U.S. Department of Commerce Broadband Technology Opportunities Program (BTOP) awards totaling $104 million. In addition, MCNC raised $40 million in private matching funds required by the federal program ($24 million from the Golden LEAF Foundation, $8 million from the MCNC Endowment, $4 million from private-sector wholesale telecommunications company FRC, and an estimated $4 million through donations of land and existing conduit from individual community colleges, universities, and others including the Albemarle Pamlico Economic Development Corporation). No funding from the State of North Carolina was used.
MCNC completed the historic expansion of NCREN in 2013, which now spans 2,700 fiber network miles in 86 counties in the state. Since completion, MCNC has seen impressive demand from community institutions and private-sector service providers in connecting to the network.
"MCNC's vast network, history of innovation and operational excellence gives our state a real competitive advantage to create opportunities for employment in economically-distressed or rural communities," said MCNC President and CEO Jean Davis. "With the help of Golden LEAF and many others, MCNC is bringing connectivity levels in North Carolina to all-time highs on broadband infrastructure that is reliable, affordable and incredible."
Media and press who would like to attend Tuesday's event, please contact the MCNC Communications Office.
###
About MCNC
MCNC, a technology nonprofit that builds, owns and operates the North Carolina Research and Education Network (NCREN), has served research, education, non-profit health care and other community institutions with Internet connectivity in the state for more than 30 years. NCREN is the fundamental broadband infrastructure for more than 500 of these institutions including all K-20 education in North Carolina. As one of the nation's premier middle-mile networks, MCNC leverages high-speed fiber on NCREN to customize Internet services and related applications for each customer while supporting private service providers in bringing cost-efficient connectivity to rural and underserved communities in North Carolina. Visit www.mcnc.org. MCNC Social: Facebook, Twitter @MCNC, YouTube, Google+, LinkedIn.
Multimedia & Supporting Assets