08.24.2023
MCNC presents 'A New Wave of Innovation' for North Carolina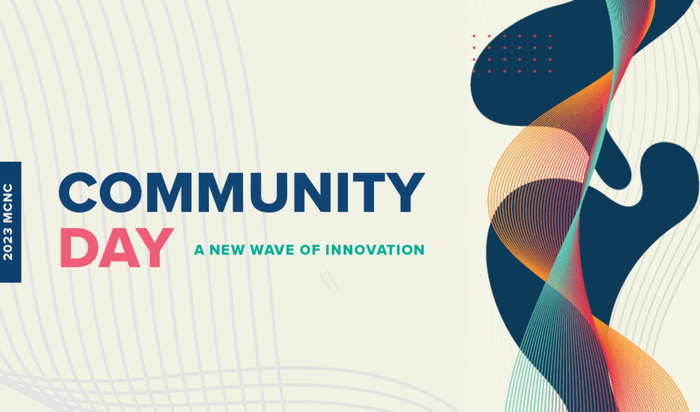 RTP nonprofit's signature event, MCNC Community Day, returns to Durham on Nov. 15-16
 DURHAM, N.C. (Aug. 24, 2023) – MCNC today announced that the technology non-profit's signature event – MCNC Community Day – will return this fall on Nov. 15-16 at the Durham Convention Center. 
This year's event theme is A New Wave of Innovation, which celebrates MCNC's past successes, current contributions, and the awesome future planned for connecting North Carolina. The format will feature keynotes and panel discussions covering a variety of technology topics such as cybersecurity, eSports, generative AI and large language models such as ChatGPT, women in tech, quantum computing, and other things innovation. The full agenda along with special guest presenters will be posted here when available. 
"A wave of innovation – like the Industrial Revolution or Age of Electricity – is a period of time when there is rapid and widespread adoption of new technologies and ideas that have a profound impact on society," said MCNC President and CEO Tracy Doaks. "There are signs of a new wave on our horizon, and this year's MCNC Community Day will weave a digital thread through all of the unprecedented opportunities that MCNC has helped create over the years that now empower North Carolina to do great things today as well as tomorrow." 
Attendees are offered exclusive possibilities to meet a wide range of professionals from within and outside of North Carolina who share a focus on how advanced networking technologies can impact students, provide innovative capacity to researchers, and increase North Carolina's overall global competitiveness. 
A key topic planned at MCNC Community Day will be showcasing the new High-speed Economies for Rural Opportunity, or HERO Project, which will directly support improvements to broadband access and affordability across central and southeastern North Carolina. Additional highlights include the always-popular MCNC Community Awards, which recognize individuals and stakeholders who understand how technology and broadband can grow educational opportunity, local economies, and innovation for all citizens in North Carolina. 
MCNC Community Day is made possible by generous sponsors, which include – Zettabyte: Presidio and Cisco; Gigabyte: North Carolina Telehealth Network Association (NCTNA) and RSM; Megabyte: Akamai Technologies, Financial Directions, and LCG Associates; Bytes: FountainWorks, Sentinel Risk Advisors and Truist. Learn more about our supporters here. Additional sponsorship levels and opportunities are still available. 
Registration for MCNC Community Day is now open with a special discount available through Oct. 13. Participate and keep up with all the latest event updates on social media using #ANewWaveOfInnovation. 
### 
Editorial Contacts
Jim Nester, MCNC Senior Director of Client Engagement & Marketing: (919) 248.1927 or jnester@mcnc.org
Noah Garrett, NGC Communications, on behalf of MCNC: (252) 423.1277 or press@mcnc.org