01.01.2022
MCNC In The News 2022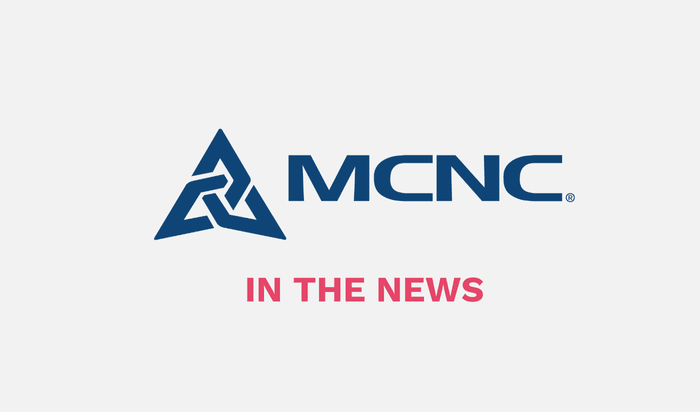 Welcome to MCNC's 2022 In The News. Listed below are the 2021 media outlets that have written articles about MCNC, have posted MCNC's press releases, or have mentioned MCNC in articles. 
The date and title is listed in accordion. Please click on the + sign to read more, which includes a link to the original post.
Date: March 24, 2022
Outlet: Triangle Business Journal
Excerpt: An interview with Tracy Doaks — MCNC "What accomplishments from the last year made you the most proud?
I am most proud of the MCNC team's ability to persevere through the second year of the pandemic. Since connectivity and cybersecurity has become even more of a priority across our state, and the teams are busier than ever. Last year we completed a western expansion project with Facebook to help close the digital divide and connect several institutions from Forest City to Dobson."
Read more >>>
Original Posting: https://www.bizjournals.com/triangle/news/2022/03/24/2022-wib-awards-tracy-doaks-mcnc.html
Date: March 23, 2022
Outlet: Yahoo!
Excerpt: "RESEARCH TRIANGLE PARK, N.C., March 23, 2022 /PRNewswire/ — MCNC today announced the launch of Community Connect, a new podcast where leaders and innovators will meet regularly to discuss some of today's hottest technology topics and trends…"
Date: February 28, 2022
Outlet: Cision PR Newswire
Provided By: Internet2
Excerpt: "Internet2 today announced the winners of the 2022 Community Anchor Program (CAP) Distance Learning Scholarship to provide free, interactive distance learning experiences for K-12 classes through the Center for Interactive Learning and Collaboration (CILC). A total of 31 K-12 teachers across Connecticut, Illinois, New York, and North Carolina are being awarded CILC scholarships, which will directly benefit more than 1,200 students.
…The 31 scholarship recipients connect to the Internet2 network via one of the following four state research and education networks: Connecticut Education Network, Illinois Century Network, NYSERNet in New York, and MCNC in North Carolina."
Read more >>>
Original Posting: https://www.prnewswire.com/news-releases/winners-announced-for-internet2-community-anchor-programs-2022-distance-learning-scholarship-301490883.html
Date: February 9, 2022
Outlet: Yahoo! Finance
Excerpt: "MCNC today announced the hiring of Rachel Pisciotta as its new Chief Financial Officer, providing new leadership and guidance for the growing technology non-profit focused on delivering high-performance Internet and networking, cloud services, cybersecurity, and other essential technologies for a diverse set of clients and communities throughout North Carolina."