09.14.2023
HERO Project: Empowering students, teachers through broadband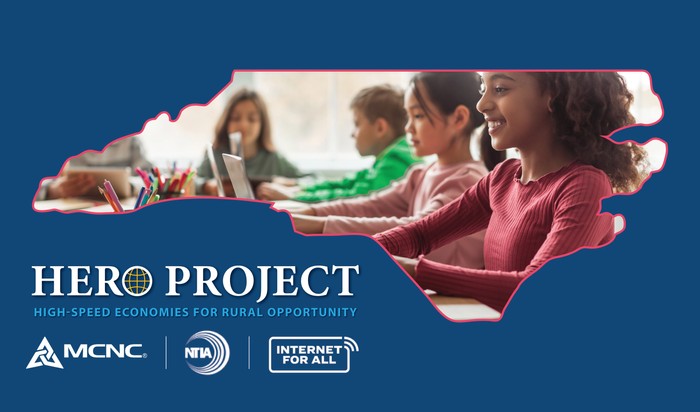 In recent years, high-speed internet has become a staple in education across the country – providing teachers with ready access to tools, technology and constant contact with students, and students with access to research, experts, and classmates at the click of a mouse. But many schools in rural areas have fallen behind due to their lack of connectivity. MCNC's HERO Project aims to change all that, bringing ALL parts of North Carolina into the digital fold, making this the best back-to-school year ever.
Addressing Digital Disparity
As with individuals and businesses across the digital landscape, students and teachers are profoundly influenced by the extent to which they are connected. Today, students in rural, unserved, and underserved communities in central and southeastern North Carolina are at a distinct disadvantage compared to their more connected urban counterparts. Their access to research and study materials is slow or restricted, they struggle to collaborate with peers online, and they are less exposed to 21 st century technologies that will help them compete in college and in the workforce. However, the tide is turning in the region as MCNC's HERO (High-Speed Economies for Rural Opportunities) Project kicks off – expanding fast, reliable broadband to K-20 education, adult learning, and workforce development in North Carolina.
Attracting Teacher Talent
Just as small or rural towns struggle to attract doctors and other highly-skilled workers, a lack of reliable broadband may keep the best teachers from relocating to (or staying in) rural areas. In a study by Cal State called Unpacking the Advantages and Disadvantages of Rural Education, researchers found that one main driver that keeps teachers from accepting jobs at rural schools is "isolation from professional networks." So, not only is it difficult to get the word out about terrific opportunities but once a great hire arrives, he/she feels cut off from peers, isolated from potential guidance or collaboration, and unable to reach the information and tools to help their students.
By contrast, a connected educator—even one in a small school with only a handful of colleagues—has access to leading edge pedagogy, real-time lectures and exercises, and the ability to chat with colleagues and invite experts into a virtual classroom. In the same Cal State study, advantages of rural education are called out: smaller classes, less bureaucracy, and "the presence of strong community connections, a sense of localism and value of place, and informal community decision-making mechanisms." When the HERO Project is complete, teachers will no longer feel cut off from their networks, and talented teachers are likely to choose the benefits of rural schools without the pain of isolation.
Bridging the Gap for Students
As many colleges and universities seek to bolster the diversity of their student bodies, they are actively reaching out to rural students, hoping to not only bring their unique perspective to these schools but provide opportunities for worthy students who (until now) have not had access to these larger, more metro schools. According to Byron Trott of the STARS College Network, "there is a massive talent pool in our small towns and rural communities that has so much to offer—to our colleges, to society, and to future generations." But, largely due to the lack of reliable broadband, only 18 percent of rural men 18- 24 and 20 percent of women complete their bachelor's degrees (compared to 32% and 33% of their urban counterparts). A USA Today Report also cites this disparity pointing to isolation—both before applying to bigger schools and after arriving on campus—as a driver.
The HERO project will combat this isolation before it can take hold. Students who have never had the internet at home will suddenly be able to complete homework and research any time. At home and in the classroom, they'll have ready access to endless content, on-line lessons, and the ability to collaborate with their classmates. They'll be exposed to entirely new fields of study and technologies that will open their eyes to (and prepare them for) college majors they never thought possible, universities across the nation they didn't know existed, and career fields their parents never conceived.
In addition to the purely educational benefits the HERO project will drive, a more connected student body is a healthier student body. Establishing networks (even virtual ones) has been shown to have positive effects on mental health, lower the rates of anxiety and depression, and promote healthier lifestyles. In short, both K-12 and adult learners with access to reliable broadband will reap the benefits for the brain, body, and soul.
HERO in the Neighborhood
MCNC's HERO Project is about much more than laying down fiber-optic cable; it's about creating bridges—bridges between educational aspirations and opportunities, between local businesses and the global market, between rural communities and the digital world. With this visionary initiative, central and southeastern North Carolina is poised to not only bridge the digital divide but leap across it, propelling its residents into a future where possibilities are limitless and opportunities are boundless.
Visit MCNC HERO Project to learn more and discover how we are connecting North Carolina and empowering students and teachers throughout the state.