02.01.2021
MCNC's Collaborative Approach to Digital Inclusion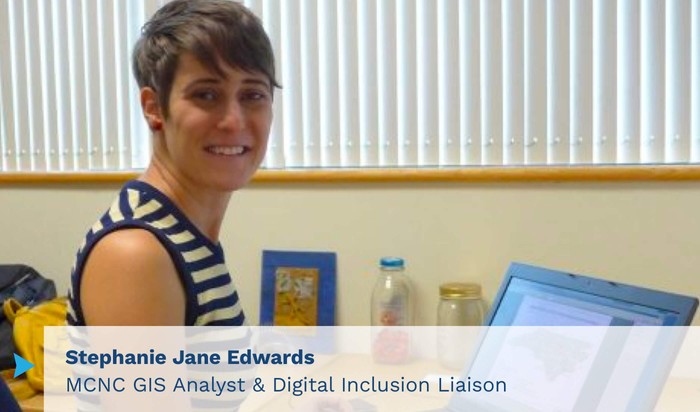 Blog post by Stephanie Jane Edwards, MCNC GIS Analyst & Digital Inclusion Liaison
Be intentional. Find your tribe. Dream. Focus. Have a goal. And, go for it!
This is great advice from conversations heard last week (April 28) during "Empowering Women in Government: Real Leaders Share Real Experiences" hosted by GovTech. The two-hour webinar featured roundtable discussions and short inspirational talks from women leaders throughout the country with the goal of helping advance professional and personal learning for women in government.
Watch the event on-demand here (registration is free, email address and zip code only).
Women are continually breaking barriers and holding more leadership positions in government than ever before. Following the 2020 election, a record-breaking number of women now serve in Congress, including 52 women of color. But, they are still underrepresented. Women only hold a little over a quarter of elected seats across government. And technology is tougher – only about 16 percent of state CIOs are women. And across counties, it's 12 percent.
Before joining this incredible organization, I also served as CIO and Secretary of the N.C. Department of Information Technology. Most, if not all, of my career opportunities before this one have been presented to me. But, I really did chase this position at MCNC – it was a calling for me and all the things I have done previously have led me here. So, now what can I do with it?
Technology is rapidly evolving. At the same time, women are still massively underrepresented STEM fields. Diversity in these areas is and must-be a business priority for everyone to get ahead of the curve.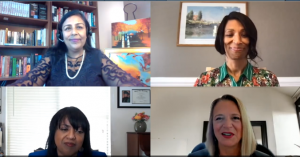 I was very excited to participate on a panel called Reskilling, Upskilling, and New Skilling: Preparing women for the tech of the future. The panel was moderated by Deborah A. Snyder, Senior Fellow, Center for Digital Government, and former Chief Information Security Officer for the State of New York, and featured Anushree M. Bag, Executive Director, Risk and Compliance, Office of Technology, State of Indiana; and Dr. Iris Ware, Chief Learning Officer, Office of Talent Development and Performance Management for the City of Detroit.
Be comfortable with being uncomfortable. As one put it during our discussion, be a "purple cow" in the room by being intentional and bold. Women also need to find their village and a support system outside of work. Expecting that support from the people in the work environment is not ideal. Moving up the corporate ladder, it gets lonelier and lonelier and you need that support.
Who you are and what you do are two different things.
There are so many opportunities in technology that people don't see as technology. Technology is embedded in almost every thing we do today. There's a seat at the table for everyone, and we should embrace how attractive these careers really can be. If you're bold enough, find a good mentor and have the right support, upcoming generations have the opportunity to not just succeed but create their own roles in technology.
While MCNC cannot address all aspects of digital inclusion on its own, MCNC — with its world-class statewide fiber-optic backbone network — along with fellow state Research and Education Networks (RENs) are well-positioned to leverage their middle-mile networks and community relationships for digital inclusion work. Such digital inclusion work can create ripple effects in broadband access for health and wellness, learning, civic engagement, research and innovation, cultural richness, and thriving economies.
What is Digital Equity and Inclusion?
The National Digital Inclusion Alliance defines digital equity as "a condition in which all individuals and communities have the information technology capacity needed for full participation in our society, democracy, and economy." Digital equity is necessary for everyone to have full access to opportunities of civics and culture, healthcare, learning, employment, and essential goods and services.
Digital inclusion refers to all the activities and efforts that remove barriers in order to create digital equity. Digital inclusion work includes, but is not limited to, broadband access development for rural communities as well as communities with unserved and underserved broadband access.
One helpful way to think about this is that digital equity is the goal, and digital inclusion is how we get there.
Many of North Carolina's community anchor institutions and communities (both rural and urban) have digital inclusion goals built into their core activities. MCNC has a strong working relationship with K-12 schools, colleges, libraries, healthcare organizations, and local governments across the state, and MCNC has always worked to be more than a provider of broadband and technology services. Rather, MCNC strives to be a responsive collaborator and convener on technology-related missions that improve the lives of North Carolinians.
The COVID-19 pandemic has created huge shifts and spikes in broadband-related needs. MCNC has come alongside North Carolina communities as we all navigate new challenges, disparities, needs, and opportunities.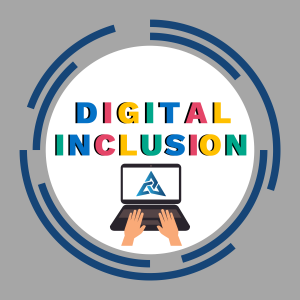 In this rapidly-evolving COVID-19 context, MCNC is continuing to hear from community anchor institutions (CAIs) and local governments about what their broadband and technology needs are, and MCNC seeks to grow accordingly in its capacity to connect these communities with their needed resources. MCNC supports an approach championed by the Schools, Health & Libraries Coalition (SHLB) at the national level to improve broadband access and digital inclusion efforts "to and through" the CAIs of unserved and underserved areas. This resonates with the mission of MCNC because we recognize that CAIs are on the front lines of meeting the needs and goals of their surrounding communities, and we see the innovative resources directed "TO" the CAI's core activities are critical in creating ripple effects in the greater communities.
Internet Service Providers (ISPs) and other providers in the telecommunications sector are also valued collaborators with whom MCNC seeks to work with on broadband access improvement and related digital inclusion efforts. MCNC operates a primarily open access middle-mile network and seeks to collaborate with ISPs to improve broadband access and to, wherever possible, impact communities in ways directly related to MCNC's mission. MCNC's decisions about what collaborations and projects to participate in are determined by this mission-related community impact as measured by external input and available data.
Click here to read MCNC's recent press release regarding digital equity and inclusion.