06.10.2021
MCNC is a great place to be — and everyone needs to know it!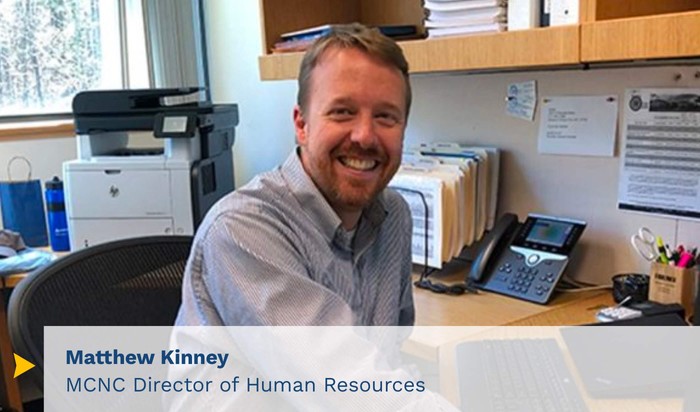 Blog post by Matthew Kinney, MCNC Director of Human Resources
One the core strategic pillars for MCNC is that it's a great place to work. So, what makes it so great?
The staff at MCNC have an intrinsic drive to make a difference, and MCNC takes pride in finding and nurturing top technology talent who are committed to making a difference to the people of our state.
MCNC is not a household name, but it should be. During a recent discussion, a colleague wondered why a company like Intel needed to advertise to everyday customers when their core customer base are computer manufacturers — not the general public. The discussion led to this one simple thought — when a customer looks to purchase a new computer, the Intel logo resonates and means it's a quality product.
In a sense, MCNC is similar — a student doesn't know that when they log on the internet at school, they are accessing MCNC's protected connectivity; the person using a computer at a local public library to apply for a job online doesn't know that they could be using our services as well. We're under the radar but do an important job for a lot people in North Carolina.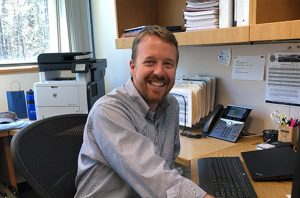 I have worked at other organizations in my career before settling in here at MCNC about two years ago. It's incredible to me that MCNC has a 100 percent client satisfaction rating and a 94 percent employee satisfaction rating! That almost seems impossible, but it goes to show just how much our employees go above and beyond every day for our clients, communities, and each other.
In the two years here, I've had the opportunity to help us bring on a number of great people, including hiring a new CEO.  The pandemic has been a challenge for a lot of companies, but our team has rolled with the punches while continuing to figure out the nuances to a hybrid approach for onboarding new employees and keeping our staff engaged when not in the same building day-to-day.
And we keep growing!
Recruitment challenges don't seem to be getting any easier these days, but we continue to find great people compelled by our mission. We are our people — both from a technology and a client service standpoint. Getting the right people in here with a lot of internal enthusiasm is what drives results on both of those aspects of the organization.
MCNC is great place to work AND it's a cool place to be. And, yes, we are hiring! Visit MCNC Careers.