04.23.2020
Recognizing MCNC Champions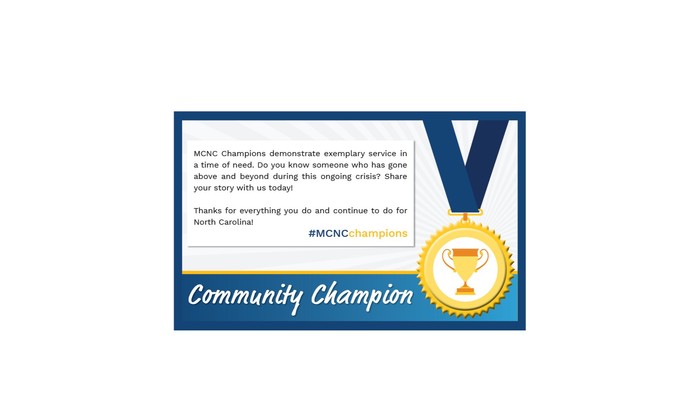 The MCNC Community has always demonstrated the highest level of dedication and commitment to their organizations and constituents. In these difficult times, when responding to a global pandemic, many out there are undoubtedly demonstrating commitment and dedication while faced with uncertainty and concern over their own families, peers, and communities.
We would like to recognize those individuals who are showing each day what it means to go above and beyond to serve their organizations and communities under trying circumstances. Whether it is implementing new technologies to support virtual meetings and distance learning or making sure staff can work from home, we want to know who it is.
MCNC Champions are individuals, teams, departments, or organizations that have demonstrated exemplary service in a time of need.
Do you know someone who has gone above and beyond during this ongoing crisis? Let's recognize their efforts. It's easy to do. Just email press@mcnc.org and describe why the person/group(s) should be recognized (or ask any questions you might have).