11.08.2022
Welcome to MCNC's 12th annual 12 Days of Broadband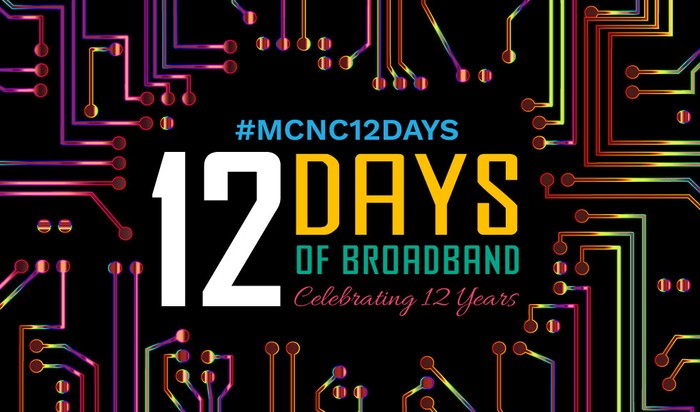 The 12 Days of Broadband are back for 2022!
From Dec. 1 - Dec. 16, The 12 Days of Broadband will feature a dozen stories on how broadband positively impacts communities in North Carolina as well as previews what's to come in 2023.
The 12 Days of Broadband annually showcases how investments in network infrastructure, bandwidth, technology, and cybersecurity can help ensure digital equity and inclusion for all citizens throughout North Carolina. In preparation for this year's edition, feel free to reflect on our previous 11 years as we continue working every day to level the playing field all across the state.
MCNC's network today spans more than 4,400 miles of fiber-optic infrastructure in virtually every county in the state, and continues to provide broadband connectivity so citizens and communities throughout North Carolina have access to high-speed broadband and technology services. Our world-class network and operational expertise provide critical Internet connectivity and other important networking services for more than 1,000 community anchor institutions such as research labs, libraries, health care sites, public safety facilities, and all of K-20 education in North Carolina.
High-speed internet is essential to the daily lives of North Carolina citizens. The 12 Days of Broadband is all about sharing stories from within our communities to show how being connected has made a positive impact in the lives of the people we serve. We hope you enjoy it.
Participate in the 12 Days of Broadband all month on social media using #MCNC12Days.
Happy Holidays from MCNC!
---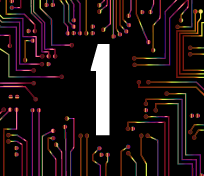 Day 1: MCNC named one of the Triangle's Best Places to Work in 2022
MCNC aims to maintain a culture where employees are proud to work here, and others see MCNC as a premier technology employer with an inspiring mission. The winners of this award were chosen based on an employee-survey process conducted by Quantum Workplace. Once nominated, a company had to meet a threshold in employee participation to be eligible. Read more.
Day 2: MCNC's new podcast sees rise in listeners since spring
The MCNC Community Connect podcast launched this year in March as a new and important outreach effort to bring together leaders and innovators in the community to discuss some of today's hottest technology topics and trends. Each episode is aimed to inspire fresh ideas and to have important conversations around technology's increasing role in economic development, digital equity and inclusion, broadband infrastructure, cybersecurity, and more. Read more.
Day 3: Middle schoolers meet MCNC Vital Cyber during Students@Work
MCNC joined the North Carolina Business Committee for Education (NCBCE) and the NC Department of Public Instruction once again this year to bring an exciting learning opportunity to the students from Reedy Creek Magnet Middle School Center for Digital Sciences. Through the annual Students@Work program, students got to learn about MCNC Vital Cyber and dig deep into cybersecurity and learn about all the career opportunities available in this fast-moving field. Read more.
Day 4: North Carolina needs HERO, expanding broadband a top priority in 2023
MCNC continues to be the organization whose bold technology solutions can bring equity to the digital landscape and bring these disparate populations together.On May 16, U.S. Secretary of Commerce Gina M. Raimondo visited North Carolina to formally announce the launch of the "Internet for All" initiative, a $45 billion nationwide investment into affordable high-speed Internet for everyone in America by 2030. MCNC supported the announcement and has since applied for funding through the Enabling Middle Mile Broadband Infrastructure Program to extend the North Carolina Research and Education Network (NCREN) via two fiber-optic paths. The $11.2 million grant proposal named High-speed Economies for Rural Opportunity, or HERO, was submitted in September. Read more.
Day 5: MCNC maintains push towards digital equity and inclusion
MCNC once again affirms that digital equity is necessary for everyone to have full access to opportunities of civics and culture, health care, learning, employment, and essential goods and services. MCNC's broadband network touches virtually every county in the state, affordably and effectively removing connectivity barriers previously experienced in North Carolina. . Read more.
Day 6: MCNC customer satisfaction, net promoter score above industry standards
Customer satisfaction surveys can be a key part of determining current and future strategies for nearly all strategic business units of an organization. A core element of our Excellent Service Delivery strategy is to send a client engagement survey annually to assess satisfaction and sentiment in a number of core areas. However, this year we took this assessment one step further. Read more.
Day 7: MCNC boosts high-speed health care in North Carolina
MCNC serves health care institutions part of the North Carolina Telehealth Network Association (NCTNA). This collaboration allows for a successful network to run at high capacity all across North Carolina because we understand access to medical technologies is a life-and-death issue. Read more.
Day 8: Managed Endpoint Protection stops cyberattacks in their tracks
Community anchor institutions continue to be on the lookout for ways to protect their data and personnel that are both effective and affordable. On the eighth day of the 12 Days of Broadband, we look at MCNC Vital Cyber and its growing suite of tools and services available. Read more.
Day 9: New NCShare project levels digital equity playing field in higher education
Shared high-performance computing and advanced networking funding from the National Science Foundation this year aims to boost STEM education and other technology resources for minority and smaller higher education institutions in North Carolina. On the ninth day of the 12 Days of Broadband, we introduce you to NCShare and how this important project aims to tackle the IT infrastructure inequities historically seen at minority-serving institutions. Read more.
Day 10: MCNC's great work culture is the foundation for steady growth
Over four decades, MCNC has built its reputation as a great place to work and has been able to recruit best-in-class talent as well as retain outstanding employees with an excellent and supportive workplace culture. On the tenth day of the 12 Days of Broadband, see how the organization has evolved and grown over the past 10 years. Read more. Read more.
Day 11:  MCNC Security Consultants help solve tough cybersecurity challenges
Cyber criminals have many ways they can damage an organization. MCNC Vital Cyber remains proactive by always learning, growing, and fine-tuning its response to cyberattack. On the eleventh day of the 12 Days of Broadband, we learn how MCNC Security Advisory Consulting raised the bar this year to protect the digital assets of clients throughout North Carolina. Read more.