12.14.2020
Day 8: Pandemic uncovers the realities of NC's rural digital divide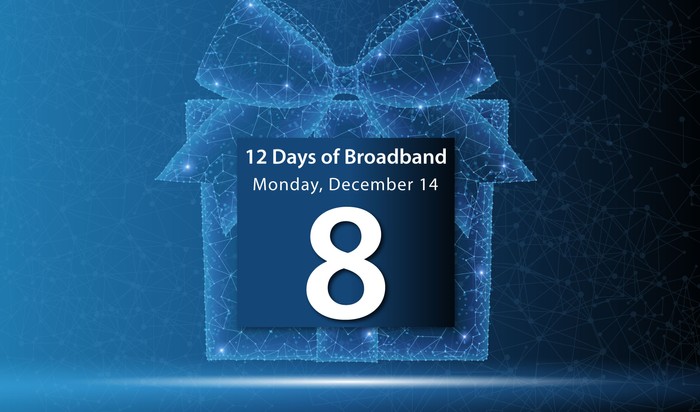 The COVID-19 pandemic has heightened demand for high-speed Internet as work, education, healthcare, and access to services have shifted online. On the eighth day of the 12 Days of Broadband, we put a timeline on the legislative efforts that have transpired over the last year to close the connectivity gap between urban and rural areas in North Carolina.
Painting the Picture
The Coronavirus Aid, Relief, and Economic Security (CARES) Act, passed by Congress and signed into law in March 2020, provided more than $2 trillion in economic stimulus across the country to address the pandemic. Among its provisions, the act allocated $300 million towards telecommunications programs and also gave states great leeway in how to spend $150 billion for pandemic relief.
States have been able to use funding to cover costs incurred from the beginning of March through the end of 2020 that were not anticipated in their budgets, which also included broadband access. States' efforts to expand connectivity using federal resources have focused on four specific needs: increasing access to online learning for K-12 and post-secondary students, supporting telehealth services, deploying more public Wi-Fi access points, and investing in residential broadband infrastructure, especially in rural and underserved areas.
As 2020 progressed, states took different steps and approaches to facilitate more broadband in their respective areas. A report from the National Governors Association released in November outlined many examples of how states used CARES Act funding for broadband projects.
Looking Back. Looking Forward.
To increase Internet access across North Carolina, Gov. Roy Cooper launched the Connecting NC Task Force in May 2019. Through Executive Order No. 91, the task force directed government leaders to identify and remove barriers to affordable high-speed Internet, eliminate the "homework gap" that results from students not having it, and facilitate private-sector deployment of last-mile infrastructure. The initial budget included $35 million to expand broadband services, with $30 million of it allocated for the Growing Rural Economies with Access to Technology (GREAT) Grant Program to encourage private service providers to bring broadband to underserved areas.
Almost exactly a year later, Gov. Cooper signed COVID-19 relief bills into law. The emergency package, which was passed unanimously in the General Assembly, included almost $1.6 billion in relief measures for critical expenditures related to public health and safety, educational needs, small business assistance, and continuity of state government operations. Of this amount, $1.4 billion was appropriated and $150 million was set aside in a reserve fund for future local government needs.
BAND-NC - Building a New Digital Economy in North Carolina
High-speed Internet is not optional in today's unprecedented situation. Too many North Carolinians lack the Internet access they need to apply for jobs, do homework, or run a business.
In July, the Institute for Emerging Issues (IEI) at NC State University hosted an informational webinar on BAND-NC, their new grant program funding digital inclusion plans in North Carolina communities. The ultimate goal of the program is to make North Carolina the first state in the nation where every county has a digital inclusion plan in place.
In the fall, initial grantees were invited to join technical assistance workshops to build county-wide digital inclusion plans. A second round of funding to support the implementation of these plans will be available in Spring 2021. Visit this website for more information and to apply.
Relief for Students
In August, Gov. Cooper directed $95.6 million in new funding to help support K-12 and post-secondary students most impacted by the COVID-19 pandemic.
The funding is the state's share of the Governor's Emergency Education Relief (GEER) Fund, a part of the CARES Act. GEER funds are intended to provide emergency support to school districts, post-secondary institutions, or other education-related entities for addressing the impact of COVID-19.
Click here to see how funding and investments were directed throughout North Carolina.
Around the same time, the U.S. Department of Education awarded the N.C. Department of Public Instruction $17.6 million to develop innovative instructional approaches to better meet student needs during disruptions to schooling. North Carolina was one of 11 states to share $180 million under the federal Rethink K-12 Education Models Grant Program aimed at improving teaching and learning during the current crisis. Read full announcement.
Remote Learning Boost
Many North Carolina students currently attending school remotely need reliable Internet access to connect with their teachers and access their lessons. Students who are attending school onsite may also need Internet at home to be able to complete assignments.
In September, Gov. Cooper announced an investment of $40 million for NC Student Connect, a new partnership to address connectivity gaps in remote learning for many North Carolina students.
NC Student Connect is a partnership across state government including the N.C. Department of Information Technology, N.C. Department of Natural and Cultural Resources, Gov. Cooper's Hometown Strong Initiative, and the N.C. Business Committee for Education (NCBCE). Initial private sector investments for NC Student Connect came from AT&T, Duke Energy Foundation, Fidelity Investments, Google, Smithfield Foundation, Verizon Foundation, and Wells Fargo Foundation.
Timing, Struggles with GREAT grants
As previously noted, North Carolina has federal money to spend on expanding broadband to the state's rural areas through the GREAT grant program, but there's a chance it might not be spent in time. The deadline for states to use that CARES Act money is Dec. 30.
The concern is that federal guidance from the U.S. Treasury Department doesn't allow the grant funding to provide the broadband service by the deadline. There also are concerns the federal government would then take the money back, if unused.
Watch video of Gov. Cooper explaining the hold-up during one his COVID-19 briefings in November.
North Carolina's digital equality requires longer-term solutions
COVID-19 has uncovered the realities of the digital divide and shown us all just how valuable high-speed Internet is today. The pandemic has forced jobs, classrooms, and businesses to go remote, which has shed light on the disparities in connectivity and with it, access to digital learning, telehealth, and public and residential broadband service. Although immediate federal relief funds have helped tackle near-term challenges, addressing these inequities ultimately requires long-term solutions to provide more North Carolina citizens with reliable broadband access in their homes.
One thing clear-cut from 2020 is that we're not going back to broadband pre-COVID. As the world has turned to remote and online technologies, the broadband gap specifically found in North Carolina has become resounding as lawmakers continue to focus efforts and funding to try and fix it. But, as we continue to learn, short-term fixes are helping but long-term solutions are needed.