12.17.2020
Day 11: MCNC helps engineer $12M Rural College Broadband Access Project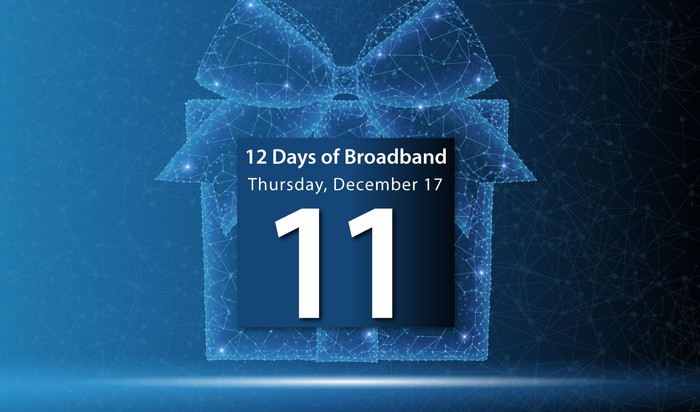 MCNC provides critical technology and networking services for the North Carolina Community College System (NCCCS), the third largest community college system in the United States. Since 2011, MCNC has worked with NCCCS and the N.C. Department of Information Technology to integrate a full range of technologies into individual teaching and learning environments to serve all 58 campuses.
On the eleventh day of the 12 Days of Broadband, we highlight the new Rural College Broadband Access Project as a major step in extending rural broadband to North Carolina's community colleges.
The spread of COVID-19 in the spring of 2020 heightened students' needs at all 58 colleges to remotely connect to campus and access course materials securely. Many rural community colleges operated on outdated infrastructure or lacked systems that fully extended high-speed Internet to their students.
The Rural College Broadband Access Project is a $12 million endeavor to improve the technology infrastructure at 20 of the state's rural community college campuses funded with federal coronavirus relief funds through the 2020 COVID-19 Recovery Act. Completion of the project is expected by end of the year and will enhance the capacity for online learning at these campuses:
| | |
| --- | --- |
| Bladen Community College | Roanoke-Chowan Community College |
| College of the Albemarle | Robeson Community College |
| Edgecombe Community College | Rockingham Community College |
| James Sprunt Community College | Sampson Community College |
| Lenoir Community College | South Piedmont Community College |
| Martin Community College | Southeastern Community College |
| McDowell Technical Community College | Stanly Community College |
| Montgomery Community College | Tri-County Community College |
| Pamlico Community College | Vance-Granville Community College |
| Piedmont Community College | Western Piedmont Community College |
NCCCS lists 45 colleges that are classified as rural. The 20 schools identified for this project were based on need and a number of factors, including the regional economy, percentage of population served, and the demand for technical assistance. These improvements protect networks and prevent disruptions in service for faculty, staff and students, providing for an uninterrupted educational experience. More importantly, the upgraded connectivity in campus buildings, on grounds and in parking lots will help students complete their courses while safely social distancing.
Click to view an interactive map showing participating schools and information for the college.
The project enabled colleges to provide Wi-Fi to outdoor campus locations, install advanced cybersecurity protection, protect networks, conduct firewall checks, connect buildings and classrooms across campus, prepare infrastructure for disaster recovery, provide security training for updated software tools, migrate applications to public clouds, and ensure continuity of operations.
MCNC connects all 58 campuses to its network, NCREN, as part of an agreement that includes Internet services. Individual main colleges often work with MCNC to provide connectivity and services to their satellite campuses, helping to ensure that citizens are within a 30-minute drive of a campus and receive the same valuable services of the main campuses. To date, more than 40 satellite campuses are connected directly to MCNC's fiber network.
The Rural College Broadband Access Project includes $10.6 million in allocations to colleges, $866,000 in security support services, and $436,000 in engineering and design services from MCNC. NC State University's Friday Institute for Educational Innovation provided analytical support.