12.03.2020
Welcome to MCNC's 10th annual 12 Days of Broadband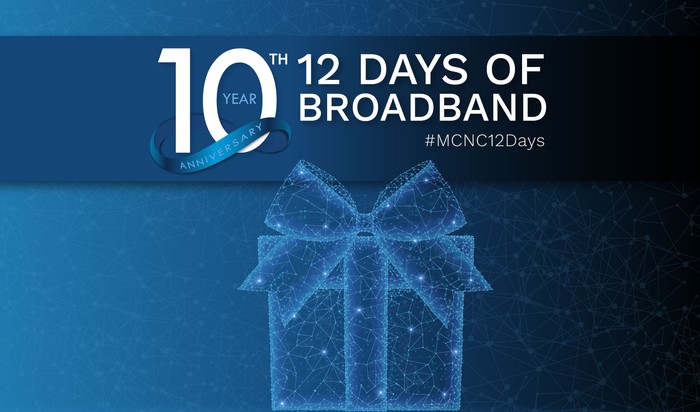 The 12 Days of Broadband are back!
From Dec. 3 - Dec. 18, The 12 Days of Broadband features a dozen stories on how broadband positively impacts communities in North Carolina as well as previews what's to come in 2021.
Now in its tenth year, the 12 Days of Broadband showcases how investments in network infrastructure, bandwidth, valued-added services, and cybersecurity in North Carolina can help ensure citizens are prepared for today's interconnected economy. Click here to look back at our previous nine years and reflect on what we've accomplished.
The North Carolina Research and Education Network (NCREN), which today spans more than 4,000 miles in virtually every county in the state, has provided broadband connectivity to lead North Carolina citizens to the path of success for 40 years. MCNC's world-class network and operational expertise provide critical internet connectivity and other important networking services for more than 850 community anchor institutions such as research labs, libraries, health care sites, public safety facilities, and all K-20 education in North Carolina.
There's no question that broadband is an essential service in the daily lives of North Carolina citizens. The COVID-19 pandemic this year has proved that many of us depend on the internet to work from home, attend virtual classrooms, receive telehealth and telemedicine services, stay connected with friends and family, and for entertainment. The 12 Days of Broadband is all about sharing stories from our communities on how broadband technologies have made an impact in the lives of the people we serve. We hope you enjoy it.
You can follow and participate in the 12 Days of Broadband all month long on social media using #MCNC12Days or follow us on Twitter at @MCNC.
Happy Holidays from MCNC!
---