12.08.2020
Day 4: NCDIT seeks public input on new broadband survey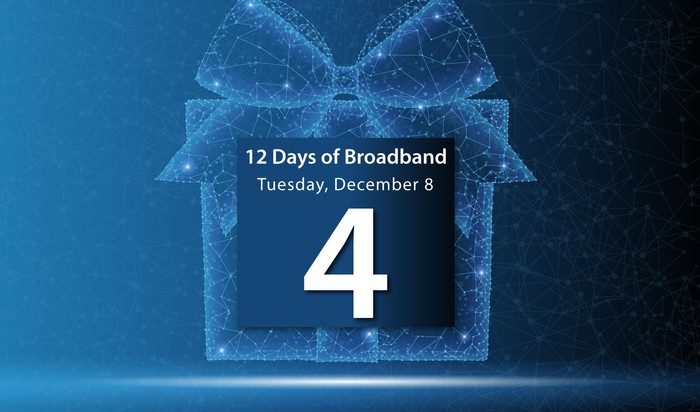 Accurately mapping the availability of broadband is essential to promoting the deployment of high-speed Internet to all North Carolina citizens, especially those in rural and underserved areas. On the fourth day of the 12 Days of Broadband, we explore the steps North Carolina took this year to help improve data collection and compile key information on the adoption of broadband in the state.
In September, the National Telecommunications and Information Administration BroadbandUSA's State Broadband Leaders Network (SBLN) held its semi-annual summit to discuss broadband issues and policy at the state level. The NTIA also provided an update on its National Broadband Availability Map (NBAM) and introduced BroadbandUSA's new State Broadband Mapping Cohort.
The NBAM is a geographic information system (GIS) platform for the visualization and comparison of federal, state, and commercially available broadband data sets to better inform broadband projects and funding decisions. NBAM's partners currently include 22 states as well as the U.S. Department of Agriculture, the Appalachian Regional Commission, and the U.S. Economic Development Administration. North Carolina is one of the participating states.
The N.C. Department of Information Technology (NCDIT) led efforts at the state level this year by urging the public to take a new community survey; this way lawmakers can figure out who has broadband (and who doesn't) and target funding in the specific areas that need it most.
The Broadband Infrastructure Office within NCDIT serves as the statewide resource for broadband access, first responder communications, and classroom connectivity initiatives led by the state. In addition to provider-reported data to the FCC to analyze broadband adoption, the state implemented the North Carolina Broadband Survey as a way of identifying deficiencies in the current broadband mapping data and gaining a local perspective on broadband access.
The five-minute survey was created in collaboration with the Friday Institute for Education Innovation at NC State University and is available in both English and Spanish. It can be taken online or by phone for users without service. Residents without Internet service, but with phones capable of text messaging, can text "Internet" to 919-750-0553. Standard text messaging rates apply. Residents with land lines or cell phones that do not have texting capability, may call 919-750-0553. The interactive voice response system will guide you through a series of short questions to obtain their address and register it in the database as having no Internet capability.
This project is an extension of NCDIT's Speed Reporting Tool, which allows people to report whether they have Internet access at their home or business and determine the speeds received at their address. Information gathered will provide context to the state's broadband picture, guiding funding opportunities through North Carolina's Growing Rural Economies with Access to Technology (GREAT) grant program, informing research and policy recommendations, and supporting strategic targeting of additional funding channels. Citizens also can use this tool to view reported broadband service across North Carolina and compare it with the provider reported service areas from the FCC.
The importance of connectivity is obvious as citizens in North Carolina and throughout the country are using the Internet now more than ever before to work from home while their children are getting school assignments remotely as well. Since 2018, leaders at federal and state levels have worked to get better and more accurate mapping in place. Although there is still much work to do, with your help and input those efforts are continuing to improve every year.